2016 Golden Hoosier Award Recipients
Lt. Governor Eric Holcomb was joined at the Indiana Statehouse this afternoon by Dr. John Wernert, Secretary of Indiana Family & Social Services Administration (FSSA) and Yonda Snyder, Director of the Division of Aging, to announce the 2016 Golden Hoosier Award recipients. The award, which began in 2008, annually honors a group of outstanding Hoosier senior citizens for their lifetime of service and commitment to their communities. The award is considered one of the highest honors given by the State of Indiana to senior citizens. Given annually, eligibility criteria for the Golden Hoosier Award includes being a current Indiana resident aged 65 or older and a volunteer in the community for at least the past three years. Among the list were Richard and Susan Brooks of Michigan City.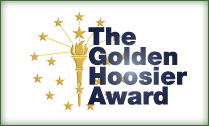 Leave a Reply
You must be logged in to post a comment.