2016 Golden Hoosier Award Winner
State Rep. Greg Beumer presented Indiana's 2016 Golden Hoosier Award to Winchester resident, Bettye Monks at the Statehouse recently. "For 26 years, Bettye has been serving up pancakes at the Randolph County Ag Day Farmer's Breakfast," Beumer said. "She has also volunteered with local food pantries, hospitals, churches and the Angel Tree project. Bettye is a role model who devotes her life to helping our community. It is my honor to recognize her and her goodwill toward others." The Golden Hoosier Award is the highest honor bestowed upon a senior citizen in Indiana, and works to recognize unsung heroes who serve other Hoosiers. Beumer said Bettye is one of 20 Hoosiers receiving the award this year.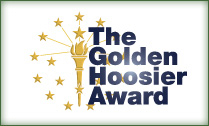 Leave a Reply
You must be logged in to post a comment.